Compuverde Software Defined Storage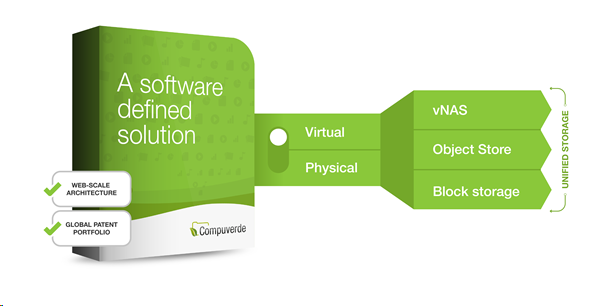 Compuverde, uitgeroepen tot "Software Defined Storage product of the year" door Storage Magazine wordt in Belgie, Nederland en Luxemburg geleverd door Inprove IT Infrastructure Solutions.
Voor meer informatie over wat Compuverde is en kan organiseert Inprove IT in samenwerking met Compuverde introductie webinars.
Compuverde is ook leverbaar als all flash oplossing, neem contact met ons op voor meer informatie via sales@inprove.nl of bel +31 88 4677683 of laat je terugbellen.
Compuverde All Flash promo film
Compuverde is een storage platform dat zowel scale-up als scale-out ondersteunt, volledig hardware onafhankelijk opereert en extreem schaalt, zowel in capaciteit als performance.
Door gebruik te kunnen maken van zeer grote capaciteit spinning disks en flash based storage kan op een optimale manier gebruik gemaakt worden van alles wat de hardware te bieden heeft.
Compuverde, in Zweden ontwikkelt, is simpel in het gebruik en biedt ondersteuning voor alle mogelijke storage gebruikstypen.
Compuverde highlights:
Ondersteunt zowel scale-out storage als hyperconverged voor virtualisatie
Kleine start mogelijk en oneindige groei eenvoudig
Slim gebruik van caching door gebruik van flash storage
Volledige hypervisor compatibiliteit (VMware, KVM, Hyper-V en Xen)
Multi-protocol ondersteuning (SMB 1/2/3, NFS 3/4/4.1, pNFS, iSCSI, OpenStack Swift, Amazon S3)
24×7 365 support
Zeer eenvoudig in management en gebruik
Inprove IT Infrastructure Solutions helpt u graag verder met het inrichten en ontwerpen van een Compuverde oplossing voor uw specifieke use-case.
Meer weten over Compuverde? Neem contact op met de verkoop afdeling van Inprove IT Infrastructure Services en bel nu +31 88 4677683 of mail naar sales@inprove.nl voor direct antwoord op uw vragen of om een afspraak te maken voor een presentatie (in het Nederlands) bij u on-site of remote.