Compuverde hyper-converged storage voor VMware, KVM, Xen en Hyper-V
Hyper-converged staat op het punt om de standaard te worden voor het gebruik van servers, storage en compute in een gecombineerde setup, waardoor effectief een enkele, kosten effectieve en schaalbare 'bak met resources' gecreeerd wordt. Hyperconverged werken brengt u alle voordelen van server virtualisatie en verlengt dit concept met zowel compute als storage.
Draai de hypervisor en de virtuele machines op de zelfde server als de storage (hyper-converged)
Flash ondersteuning
Snelle 'live migratie'
Hoge mate van redundantie en beschikbaarheid
Geen last meer van 'boot storms'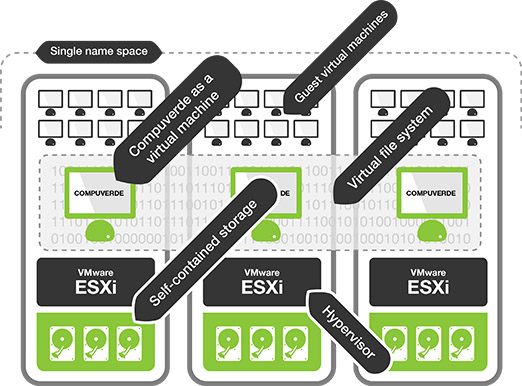 Door gebruik te maken van Compuverde hyper-converged storage bereikt u hoge IOPS en verbeterde snelheid op hetzelfde moment.
Hypervisor compatibiliteit
Compuverde hyper-converged storage is compatible met VMware, KVM, Hyper-V en Xen.

Of u nu een ISP bent, werkt met big data in de telecomsector of een private datacenter draait, vergeet de ellende die behoort bij boot storms en soortgelijke storage issues: met een hyper-converged storage oplossing op basis van Compuverde geregeld door Inprove IT Infrastructure Solutions wordt de belasting gelijk verdeeld over alle storage nodes in plaats van op slechts een toegangspunt. En daardoor worden alle 'access problemen' ontweken terwijl tegelijkertijd de snelheid toeneemt. Haal het meest uit uw geintegreerde flash based cache, en ervaar de extreme IOPS mogelijkheden van compuverde. Door horizontale synchronisatie wordt de maximaal mogelijke beschikbaarheid gehaald.
Doordat de belasting parallel verdeeld wordt over alle nodes in het hyper-converged storage cluster is uw setup veel schaalbaarder en wordt de data dichter bij de CPU en uw virtuele machines geplaats. Hierdoor bereikt u lage latency en extreem hoge IOPS. Het uitrollen van virtuele machines op even zoveel gateways laat toe dat u een volledige scale-out virtuele omgeving kunt bouwen. Live migratie op uw VMware, KVM of Hyper-V omgeving zal instantaan aanvoelen.
Dit (engeltalige) filmpje toont hoe Compuverde hyper-converged storage werkt.
Meer weten over Compuverde? Neem contact op met de verkoop afdeling van Inprove IT Infrastructure Services en bel nu +31 88 4677683 of mail naar sales@inprove.nl voor direct antwoord op uw vragen of om een afspraak te maken voor een presentatie (in het Nederlands) bij u on-site of remote.