Hyperscale Storage met Compuverde vNAS
Compuverde is gebouwd om te schalen en doet dat lineair. Iedere node in een Compuverde cluster bestaat uit dezelfde setup waardoor Compuverde compleet schaalbaar. Het beginpunt voor Compuverde kan bestaan uit slechts een paar nodes en een handje vol hard disk drives. Als het nodig is kan Compuverde uitgroeien tot honderden nodes, met exabytes aan capaciteit. Daardoor heeft u goede controle over uw investering en uitbreiding binnen uw datacenter.
Compuverde rekent af met het scale-out NAS probleem. Performance bottlenecks behoren tot het verleden met Compuverde omdat metadata op het cluster opgelagen wordt in plaats van in de gateway systemen. Het resultaat is een schoon, efficient en lineair schalend systeem tot meerdere exabytes aan data.
Een enkel filesysteem beschikbaar vanaf alle servers
Ondersteuning voor flash voor hoge performance
Flexibiliteit door nodes toe te voegen (scale-out)
Een unified storage (SMB 1/2/3, NFS 3/4/4.1, iSCSI, OpenStack Swift, Amazon S3)
Top klasse ondersteuning vanuit Inprove IT Infrastructure Solutions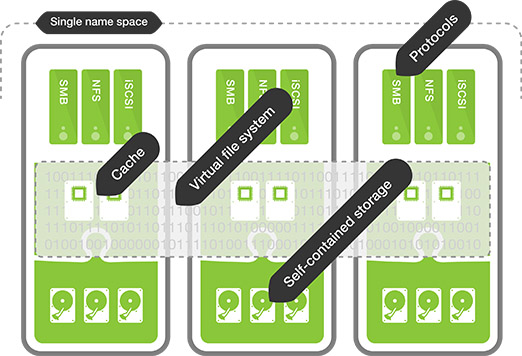 Deze illustratie toont de ondersteuning voor meerdere protocols and geintegreerde cache, bovendien ziet u hier hoe een name space over meerdere nodes in vNAS heen getoond wordt.

vNAS biedt meerdere toegangswegen en ontwijkt mogelijke bottlenecks. Metadata die nodig is voor de gateways om 'gestructureerde storage' (SMB 1/2/3, NFS 3/4/4.1) aan te bieden vanuit een 'ongestructureerd' cluster wordt opgeslagen binnen het storage cluster in plaats van op de gateways zoals de meeste concurrenten doen.

Er zijn een heleboel voordelen aan het opslaan van metadata in het cluster in plaats van op de gateways. Schaalbaarheid is uitereaard het overduidelijkste voordeel, het is de basisfunctionaliteit van vNAS. Metadata is zeer gevoelige informatie en moet ook beschermd worden tegen verlies. Compuverde behandeld metadata hetzelfde als gewone files en slaat deze ook op door gebruik te maken van dezelfde algoritmen die gebruikt worden om gewone files op te slaan. Hierdoor wordt een robustere en minder ingewikkelde architectuur gecreeerd, zowel op het vlak van software als op het vlak van hardware.
Het gebruik van vNAS van Compuverde zorgt er voor dat u een enkel bestandssysteem kunt aanbieden over meerdere gatewas en meerdere object storage clusters, waardoor het mogelijk wordt exabytes aan data met de schaalbaarheid tot miljarden files kunt opslaan. Omdat Compuverde systemen met geintegreerde cache en gebruik van SMB, NFS, iSCSI en Amazon S3 en Openstack toestaat kunt u met vNAS de toekomst zorgenloos tegemoed treden.
In dit engelstalige filmpje kunt u zien hoe Compuverde vNAS werkt.
Meer weten over Compuverde? Neem contact op met de verkoop afdeling van Inprove IT Infrastructure Services en bel nu +31 88 4677683 of mail naar sales@inprove.nl voor direct antwoord op uw vragen of om een afspraak te maken voor een presentatie (in het Nederlands) bij u on-site of remote.